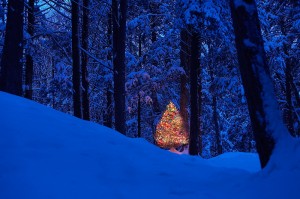 Finding Christmas joy is as easy as finding a needle on a Christmas tree if you put yourself in the right frame of mind.
You can gain an extra dose of the Christmas spirit when you start focusing on helping other people. As you spread Christmas cheer, an extra helping of holiday joy seems to land right in your lap.
The holiday decorations will all seem brighter. Christmas lights will have extra twinkle. The pine scent of Christmas trees will grow stronger. Ornaments will take on a more festive look. Christmas carols will all be in tune. Candy canes will taste even sweeter. And even the office Christmas party will be fun.
The Christmas spirit is truly a spiritual exercise. When we think of other people before we think of ourselves, our whole perspective changes.
All of this came perfectly into focus for me the other day when I was trying to remember some of my favorite Christmas presents. I soon realized that finding Christmas joy in memories of gifts I received was not nearly as clear as I thought it would be.
With a great deal of effort, I did recall a few Christmas gifts that I had gotten from Santa Claus as a young boy. I remember cruising around the neighborhood on my brand new 10-speed bike. I recall having fun with my father and brothers playing ping-pong on our new table.
Then I realized how easy it was to remember some of the best Christmas presents that I've given to other people. They all came to mind easily.
In fact, one of my favorite Christmases was the year our children got a video game system that was all the rage at that time. They were not expecting it. It was such a surprise that it took my daughter several seconds to figure out what it was when they opened it.
Finding Christmas joy was easy for my that year. It was seen in their faces as they jumped up and down with excitement.
People celebrate the holiday season in many ways. The old adage that it is better to give than receive is never more true than Christmas.
And giving takes on even more meaning when we help people who need a hand. So when you are thinking about all the great presents you are going to buy for all the people on your Christmas list, go a little farther.
You'll discover that finding Christmas joy is easiest when you're showing it to someone else.